A well-furnished cooking environment is necessary for efficient cooking. A right kitchen tool not only save your time but also you feel comfortable while focusing to cook your meal. There're several types of culinary gadgets that you need in the kitchen for cooking food, roasting, or baking. Sometimes the simplest kitchen tool can make a big difference between success and failure. The right kitchen tool makes your work easier and the cooking results are much better. In the below list, let's see which kitchen tools are important to cook like a professional chef and to make your cooking easier and comfortable
1. 3 Knives
Most of the professional Chefs agree that you do not need to buy the complete knife set and instead, you need a chef's large knife, a saw-toothed bread knife, and a trimming knife. These 3 knives can cover anything you need to do in the kitchen.
This Rachael Ray Japanese Stainless-Steel Knife Set has an 8-inch Chef's knife, 5-inch Santoku knife, and a 3.5-inch paring knife with knife sheaths. The knife set is made from premium-quality Japanese steel for lifetime performance.
Its blades are corrosion-resistant and deliver excellent cutting. Its handles are shaped for a comfortable grip while each knife includes a sheath to protect the blade and its edges between uses.
2. Cutting Board
Just like knives, a wooden cutting board is also a must-have essential to cook like a professional chef. No kitchen is ever complete without a high-quality cutting board. It is a necessary tool that is heavily used in a kitchen daily. If you take your cooking seriously then you required a cutting board that is durable, reliable, and safe for food items such as this Extra-Large Bamboo Cutting Board.
This board is smart, elegant, and a lifelong solution to your fears of cutting and slicing. It comes with an amazing lifetime replacement guarantee. The cutting board is sturdy enough to hold your large watermelons and other favorite food items.
The wood is 100% Moso Bamboo that is food grade, ultra-safe, organic, anti-microbial, and anti-bacterial material. If you love your guests and friends, then just cut, entertain, flip, serve them, and smile!
3. Non-Stick Cookware Set
Non-stick cookware set requires less cooking time and prevents sticking and saves your time needed in stirring and turning the food repeatedly. This type of utensils is generally made of heavy-duty aluminum in which the food doesn't burn onto the pan. There're also no known health risks as such from cooking your food in non-stick pots and pans.
Do all your culinary adventures with this T-Fal Ultimate Hard-Anodized Non-Stick Cookware Set that has 17 pieces. The cookware features T-Fal's Heat Mastery System which is a 3-ingredients recipe of delicious cooking – i) superior and long-lasting non-stick coating, ii) an anti-wrapping, and iii) thermo spot technology. As a result, it retains heat and cooks food more quickly.
The product is corrosion-resistant, scratch-resistant, and helps to prevent wasteful trapped in the cookware. The set is oven and dishwasher safe. The handles are designed for comfortable grasp and safety with vented tempered glass lids to maintain visibility of the food.
4. Pressure Cooker
A pressure cooker is another essential tool in the kitchen. Many cooking experts like to cook in the pressure cooker, as the cooking time is greatly reduced because the food cooks 70% faster in a cooker. Since food needs less cooking time, thus less energy is required to prepare your meals.
Next time cook your food in this Instant Pot Duo Electric Pressure Cooker, which is America's most loved cooker and a best-selling model. The cooker has 3rd generation technology, as its microprocessor controls compression, temperature time and automatically adjusts the heating intensity to get desired cooking results. It has 14 one-touch built-in smart easy programs for fish, soups, rice, meat, yogurt, desserts, and various other meals.
It's all fittings are dishwasher safe with fingerprint-resistant stainless-steel lid. No need to scare from the high pressure of this cooker, as it has 10+ built-in advanced safety features, like safety lock and overheat protection for your safety. The cooker is large enough to cook food for 8 persons with 8-quart large capacity and ideal for large families as well as for smaller households.
5. Immersion Blender Set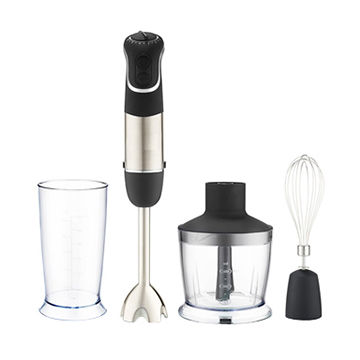 You don't need to buy a full food factory. Immersion Blender is one utensil that most of the people don't think about to have in their kitchens. This is a good go-to tool that is easy to use, clean up, and not much expensive. You just need this 5-piece set to whisk, slicing onions, make smoothies, fermenting up drinks, crush, and mash-up many food items. This item can be a great addition to your kitchen tools.
Braun, the number one famous brand name in hand blenders opens a world of new promises in your kitchen with this 4-in-1 Immersion Hand Blender. The blender is equipped with Smart Speed Technology and Splash Control Technology which allows you to increase its speed during operation by pressing a single button. While its unique floral shape blades prevent splashing. With the Easy Click system, you can quickly replace attachments effortlessly.
6. Rubber Spatula Set
Silicone kitchen tools have certain characteristics and advantages over plastic or wooden utensils. Most of these kitchen tools come in cheerful colors. Silicone doesn't retain food odors while using it for stirring. Silicon utensils are rubber-like, which makes them user-friendly while cooking on non-stick surfaces. It cannot scratch or damage cooking pots and pans like wooden or metals cooking utensils do.
The Kaluns Silicone Spatula Set consists of 4 rubber spatulas and one 9" kitchen tong. Each spatula has a sturdy and durable core for extreme resilience. They'll not ever rip, melt, warp, break or chip, as they're heat-resistant up to 600 F.
The spatula set is dishwasher safe and each spatula comes with a hanging loop for quick drying. Its silicone heads are designed with a flexible tip, while the small spatula has a brief handle to fit in every hand. This flexible and sturdy spatial set comes with a lifetime warranty. Go and buy it today!
7. A Peeler
Like so many other kitchen tools, peelers also have become advanced beyond the standard models. Nowadays, the peelers have ergonomically designed handles, ceramic blades, serrated, and super sharp. For most of the vegetables and fruits, a good-quality peeler helps to pull off a thinner layer of skin than a paring knife.
This Stainless-Steel Y-shaped Swivel Peeler for veggie and fruits is a multi-purpose peeler for apples, potatoes, pears, tomatoes, carrots cucumbers and much more. It also has a built-in potato-eye or apple-eye remover. It has ergonomic elegant design which makes peeling action smooth.
The peeler is a rust-free carbon steel sharp blade which is much better than stainless steel. Its zinc alloy body makes this peeler non-rust and anti-corrosion kitchen tool. Its rubber part keeps the handle non-slip when the peeler gets wet.
Conclusion
You can add more tools in this list. With all of your kitchen tools, it's critical to keep things in good shape. Make sure that all utensils, pots, and pans stay hygienic and in good working condition by regular washing and cleaning.