If you want to bring a cozy, warm, and cliquey atmosphere in your house, then Traditional Rugs are the ideal choice. A wide range of stylish rugs in classic designs is available such as Afghan, Moroccans, Oriental, Persian, and Turkish rugs. If you go for a hand-made rug design made from a high-quality and durable material such as wool, your rug will last longer from the daily wear and tear of a busy home.
Traditional weaved rugs replicate natural beauty in their designs, which often include plants, vines, roots, flowers, or even historical themes of their place of origin. Rugs promptly add color, pattern, and texture to your room and create a visual interest that reflects your personality.
We've selected some trendy traditional rugs that define elegance and is something to suit every taste and décor style.
1. Persian Rugs
It's not possible to discuss the topic of rugs without mentioning the name of Persian rugs. Persia is the homeland of carpets and rugs industry. It's also the center of the antique art of hand-knotted carpets. People normally think that Persian rugs are high-quality, the reason is that these rugs are designed with high knot counts and with impressive precision. Why not bring a little of ancient Persia in your home?
Buy this Persian Traditional Floral Pattern Rug on Amazon. The rug is perfect for high traffic places in your home. The rug is mold-resistant, water-resistant, and stain-resistant. The rug is made of polypropylene and does not shed its color.
2. Tribal Traditional Rugs
The classic themes of tribal traditional rugs add a touch of grace to your home. Most of these tribal traditional rugs are red in color mixed with black or ivory. These rugs feature a distinctive border.
Buy this Traditional Torkaman Tribal Rug on Amazon. The rug is hand-made and 0.33 inches thick. It's also pets and kid-friendly. Available in various colors such as red, ivory, and Burgundy. The rug has 3 tier broad borders in different styles. It can be cleaned with regular vacuuming.
3. Ivory and Gray Rug
A unique feature of traditional rugs is that they've traditional borders with frame scroll patterns and floral reflections with center decorations. These rugs withstand the wear and tear and made to last a lifetime. Traditional rugs are stain and fade resistant, durable, and easy to maintain.
Get this Oriental Traditional Ivory Rug on Amazon. The rug has an aesthetic design with traditional patterns in cool blue and gray with an ivory background color. An ideal piece for your home décor. It is machine woven from 100% polypropylene yarns and adds a cozy atmosphere on your floor. It is suitable for areas like the bedroom, living room, or entryway. The cleaning and maintenance of this rug are quite easy, just shake, spot clean, and vacuum.
4. Vintage Traditional Rug
Traditional rugs do not give modern looks rather old and vintage style rugs are more expensive than ordinary rugs. These rugs often found in neutral colors and matches well with wood or bronze décor.
Get this Traditional Geometric Terracotta Rug on Amazon. The rug is made of twisted double yarn polypropylene decoration. It has 0.5" thickness and the colors in this rug include brown, blue, peach, beige, and gold.
5. Traditional Round Rugs
The rugs are found in various shapes, such as rectangular, round, square, or runner style. Round rugs give your room a fashionable and elegant look.
Get this Traditional Round Area Rug on Amazon. The rug is made of Chenille and polyester fiber. It has a 4-feet round diameter. The rug is anti-slip and the pattern of this rug is woven rather than printed. Its design is contemporary, fancy, and fashionable. The rug is affordable with features like wear-resistant, anti-fade, and hassle-free maintenance.
6. Turkish Rugs
A Turkish rug can be an attractive complement to your home. They're made from only the most high-quality materials like hand-spun wool and silk are more valuable than cotton or woolen combinations. Secondly, older rugs are more treasured than new, as they're antique works of art. Whereas newer rugs do not have as much inherent value.
Shop for this Classic Traditional Turkish Rug on Amazon. The rug has ivory and tan colors with a black background. It is water, mold, and stain-resistant. As for cleaning, you can use carpet cleaning shampoo, but it should be dried immediately. It has a 1/3" thickness. The detailed and fine artwork can be seen that looks very classic.
7. Ivory and Maroon Rug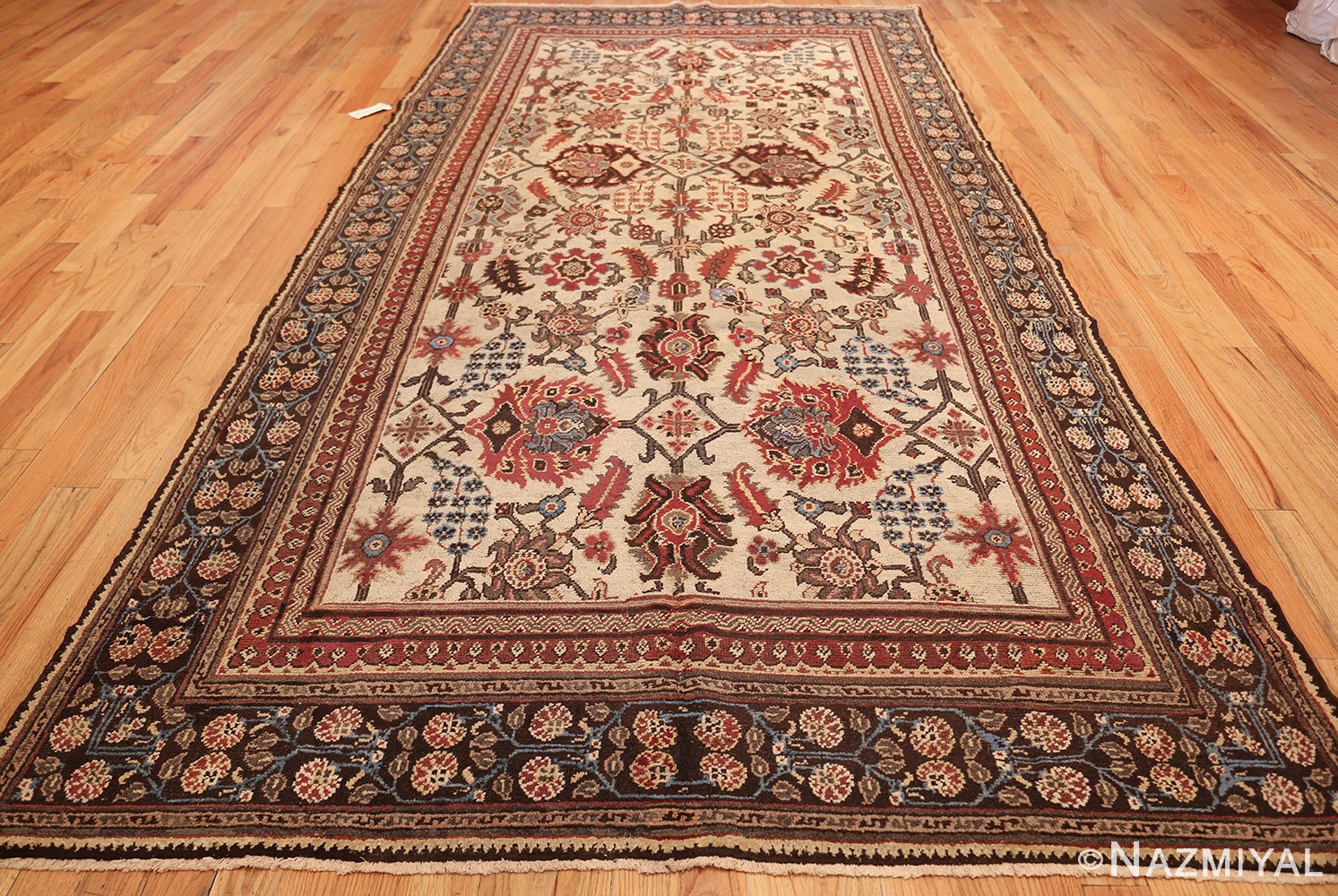 Traditional rugs offer a timeless beauty that adds sophistication and warmness to your home. These rugs are thought to be formal, but they can be in casual living areas like exercise and game rooms.
Buy this Oriental Traditional Ivory Rug on Amazon. The rug is an excellent combination of traditional Persian and European motifs. It has a stylish floral design with a mild ivory border. Additional shades of beige, gold, maroon, and green make this rug an elegant piece of decoration ornament. It has ab ability to make your room look luxurious and beautiful. With its unique floral design, the rug is durable and chic.
8. Another Persian Style Rug
Most of the Persian traditional rugs are tightly-stitched, and hand-carved which brings an elegant touch of class to your room. These rugs usually are soft and have low pile so it would not get stuck under the door. These rugs stay new for a long time even in high traffic areas of home or office.
You can buy yet another Persian Style Traditional Rug on Amazon. The color combination makes this rug a great piece of art for any décor that adds an elegant texture to the floor. The rug feels soft under the foot and has glowing, bright, and trendy colors that won't fade over time. The product is durable and resistant to soiling, stain, and fading. The colors blend makes this rug easy-to-match design with furniture and fits in any room.
9. Yellow and Ivory
Yellow is a unique and rare color to be found in rugs. But when mixed with ivory color then it gives an elegant look to your room.
Buy this Traditional Border Yellow Rug on Amazon, if you're looking for a vibrant rug to brighten up the room. The rug is rectangular in shape and machine-made. It has a unique stylish color – yellow, which is rarely found in rugs and carpets. But this rug has blended yellow with ivory and gray colors to make an eye-catching design.
10. Faux Wool Rugs
Faux Wool rugs are inspired by 19th-century antique rugs and add the spectacular features of a rare treasure to any home décor. These rugs are rich in tactical appeal with ultra-plush pile height for lavish and splendid underfoot comfort. The rugs are stain-resistant and do not shed their colors. They're environmentally-friendly and a great decorative art piece for any room.
Shop for this Round Traditional Faux Wool Rug on Amazon, to give your room an elegant look. The rug has 4 feet diameter round shape with soft surface and non-skid backing. The viscose and polyester blend provides a soft feel underfoot. Its printed graphic pattern has octagonal and square designs that are blended in this round-shape rug. The rug can be a good addition to your bedroom.
11. Red and Beige Rug
If you want to update your home with a soft and decorative item, then traditional rugs are the ideal décor for your floor. A rug quickly transforms your home into a welcoming and inviting place for your guests to enjoy. A rug provides a cozy ambiance and makes your room charming.
Get this Royal Traditional Oriental Rug on Amazon with Rondure motifs. The rug is no doubt a breathtaking décor and a must-have item for your home. The rug has a royal and luxurious look with maroon color as the background and a mix of ivory and beige. It has an exclusive balance of fashion, function, and design – a design that exceeds expectations.
Final Words:
Now you know about the traditional rugs and their different features. You can decide which one best suit your home. Choose a rug that matches with your home furniture, wall paint, and another décor.
—